Mary Kate Olsen is known for her cutting-edge style and the highly personal spin she puts on breaking runway trends. While these daring (and occasionally unusual) looks are certainly enjoyable to observe, we'd be remiss if we didn't point out that MK is equally adept at classic dressing—with a twist, of course! Today's Style Stalker breaks down one of the actress/designer's casual outfits, though to attain maximum Mary-Kate-ness, we suggest swapping in your own idiosyncratic touches. Olsen, seen above strolling in West Hollywood, chose some wonderfully universal pieces—thin, gray, sweatshirty-top, skinny jeans—as the foundation of her look. The simplicity of these non-blah basics, coupled with their excellent fit, ground her contrastive accessories.
Speaking of which, we relish the proverbial nose-thumbing Olsen gave to old-guard ideas of matching. By pairing her white, classic framed sunglasses with a wide brown belt and black, peep-toe pumps, she achieves that most sought-after of commodities—stylish ease. Olsen's choice to incorporate an evening bag into her daytime garb only further cements the coolly non-conformist vibe of her outfit.
1. Ruby Cabochon Ring ($345)
Much like the rhyme, Olsen always has rings on her fingers. (We cannot attest to whether or not she has bells on her toes, but are looking into it.) She often selects sturdy, sizeable pieces, like the rectangular, ruby, and 18K gold vermeil ring by Monica Vinader.
2. Nordstrom Square Resin Ring ($98)
Olsen usually wears multiple rings, so we also found this textured, gold foil piece from Nordstrom. The square shape is nicely congruent with the above ruby piece.
3. Tri-Blend Rib Lightweight Raglan Pullover ($34)
As we've mentioned before, both Mary Kate and Ashley wear American Apparel items, so we immediately hit up AA for a gray top. This pullover is deliciously soft, slightly stretchy, and cut in a sweatshirt-like style. Also, it's constructed out of a thin fabric that drapes on the body in a flattering way.
4. Ray-Ban Original Wayfarer Sunglasses in white-on-black ($129.99)
Wayfarers have been cool since Audrey Hepburn wore a pair in Breakfast at Tiffany's and white sunglasses came back into style this summer, so it's no surprise to see Olsen in these frames. The pair above have a slightly 80's, op art zest, thanks to their contrasting, white-on-black coloration. Similar but cheaper styles can be found anywhere from Toms to Oakley sunglasses.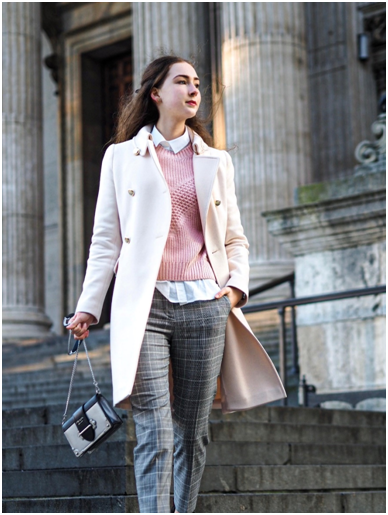 5. Earnest Sewn Esra Jean
The strict lines of a slim-fit, narrow-leg, high-waist jean nicely contrast with the gentle folds of the gray top. Look for a rinse that's slightly darker than classic denim, like the above pair, in Dover. The Esra Dover jean also has a bit of stretch, so you won't get the dreaded baggy knees effect after wearing them for a few hours.
6. Steve Madden Lesson Heels ($99.95)
If you've ever admired Christian Louboutin's Very Prive heels, you'll be charmed by this Steve Madden variation. Featuring a covered platform and peep toe, these black fabric pumps are timeless.
7. Bedford Stu Flyer Belt in brown ($58.95)
The western-inspired details on this burnished brown leather make it seem like it could have been nicked from Dale Evans's closet. It's also a great, medium width (1.5 inches), meaning it will slip through most belt loops.
8. Gold Mesh Bag (from $38)
There are many gold mesh bags available right now, but the best are vintage Whiting & Davis evening purses from the 1970s. Fortunately, they're not difficult to source (try eBay or an antique mall like Ruby Lane), just be sure to find one with a long shoulder strap.