One of the most popular brands of whiskies in the world is the Johnnie Walker Blended Scotch. Many of us are familiar with its signature smoky, woody, and sweet flavor profile as it is a popular centrepiece on special occasions.
This iconic brand has been around for more than 150 years producing top-quality whisky around the world.
To pay tribute to this masterpiece, here are six interesting facts you should know.
1. It's a Blend of 40 Whiskies
In Scotland, Johnnie Walker's Black Label whiskey comes from different distilleries across Scotland. It's a blend of different malt and grain whiskies that produce its iconic flavor profile and smoke and peat notes. Most of the whiskies used to create the unique blend comes from the Islay region in Scotland. Other areas that contribute are Speyside and the Scottish Highlands.
2. It Is the Brainchild of Alexander Walker
John Walker started as a small grocer in the mid-1800s. Like other success stories, he too endured hardships before earning success. After a flood wiped out his grocery business in 1852, his son, Alexander, suggested putting up a whisky distillery in place of their grocery business. Alexander then trademarked their brand in 1876 and formally introduced the brand's name johnnie walker Blended Scotch in 1909. They started distributing their brand of whisky to England and the rest of the British Isles in the same year. The following year, they started exporting the whisky to 120 countries paving their way to global success.
3. Their Loyal Customers Named Their Whisky
The name "Black Label" was popularised by their customers who had difficulties reading their whisky blends' names. Before their whisky was named Black Label, it was formerly known as Extra Special Old Highland Whisky. It all started when their customers asked at the counter for "the one with the black label". Thus, the Black Label was formally recognized as their whiskey's name, just like the other variants named after colors.
4. Beveridge Receives OBE Award
Dr Jim Beveridge, Johnnie Walker's only Master Blender, received the British Empire (OBE) award for Scotch services in 2019. No less than Her Majesty, Queen Elizabeth II, presented the award. Beveridge is one of the six Master Blenders in the brand's history.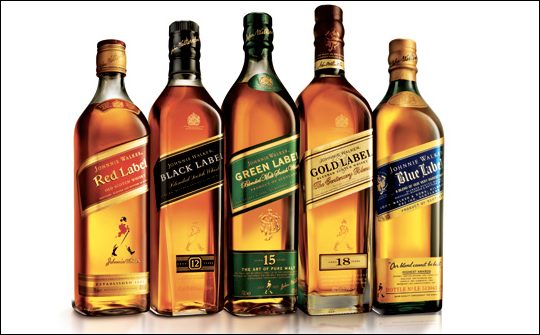 5. They Supply France's Obsession with Scotch Whisky
Despite the increase of the excise tax in 2015, France is considered one of the top consumers of whisky globally. Their preferred brand is none other than johnnie walker. France imports more whisky than the United States and the UK. Their obsession with Scotch whisky is more about reliance. It all started during the phylloxera epidemic in the 19th century. The epidemic devastated most of France's vineyards, affecting the brandy and wine industries. Their great demand for Scotch whisky has been passed on to the current generation.
6. Charlie Chaplin Inspired the "Striding Man" Logo
Johnnie Walker's famous logo, the "Striding Man" was formally used in 1909. Renowned artist Tom Browne created it. One of his main inspirations in designing the famous "Striding Man" was his close friend and famous actor, Charlie Chaplin. He was known for his specific attire, including a bowler hat and a cane similar to what the man in the logo wears.
Final Words
The world loves this brand of whisky. A testament to it is the average annual sales volume of 20-million 9-litre cases. All of us have different ways to appreciate this special drink that's been enjoyed by generations. Just don't forget to drink responsibly.