When you look at home improvements, you are usually looking at what to do, when you will be able to get started, how long it will take, and what it will cost. However, there is another factor you should look at. Doing home improvements now can save you money in the long run, and you can reduce your carbon footprint with the improvements you will make to your home.
Not only will these home improvements make your house look better and increase its value, but they will also make it more efficient and decrease your utility bills. When you are thinking about doing home improvements think about these six things, or at least about incorporating them into the projects you're already planning.
Change Your Lighting
Even the most attractive of homes can look shabby with the wrong lighting and the wrong lighting fixtures. There are a number of options for every room in the house, from efficient Island lighting for the kitchen to under cabinet lighting that is motion activated.
Modern LED bulbs and compact fluorescents offer more efficient options that also provide brighter options.
Another option is smart lighting: lights you can control using devices like your phone, your tablet, or a voice-first device like an Amazon Echo, Google Home, or Apple Home Pod. These can range from lighted wall décor that assists with light therapy to security lights that can notify you when they are motion activated if you are away, be set to turn on and off at random times for greater security than traditional lights set to timers.
Whatever your project, changing your lighting can be an improvement and be more efficient, saving you money over time and making your home more desirable.
Replace That Sliding Glass Door
That old sliding glass door with the broken screen that leads to the back deck? Replacing it can mean a whole new look for your home. From attractive frames to handles and hardware that can enhance the look you are going for, a new sliding glass door can be a great improvement.
Not only that, but that old slider is probably causing you to heat the porch in winter and cool it in the summer. The better sealing capacity of a modern two-pane door can make all the difference in your utility bills.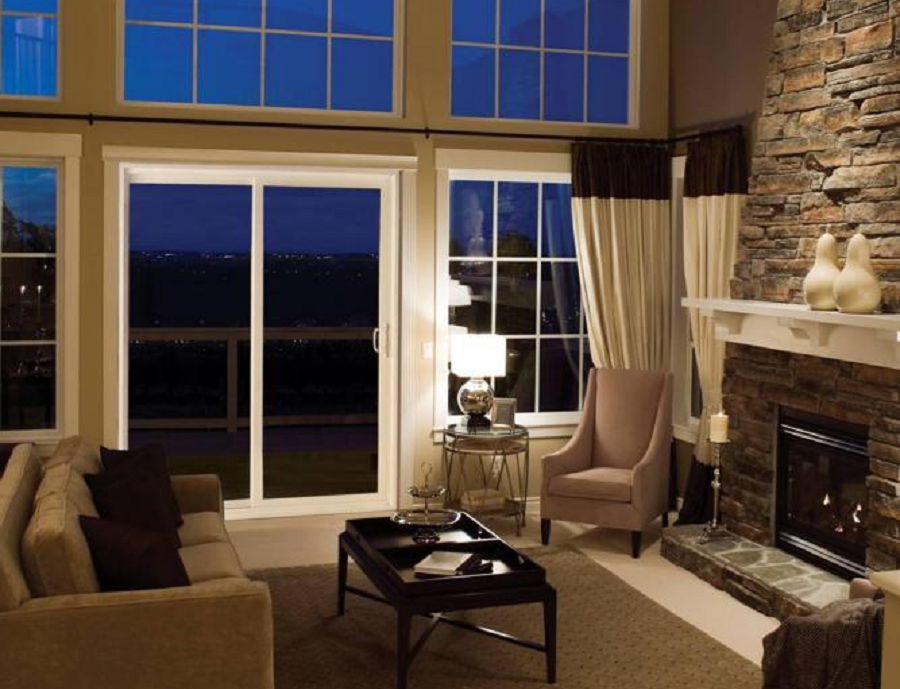 Cover Those Windows
From blinds to insulating draperies, there are many fashionable ways to cover your windows and keep the sun out in the summer and the heat in during the winter. From vinyl blinds to wooden ones in many different colors and styles, there is sure to be something that matches your style.
Not only do the right window coverings make your windows look better and fit better in your design, but they also can make them more efficient. The right window treatments also help keep the elements outside and your climate control inside.
Re-do That Kitchen
Remodeling your kitchen can change the look of your home from retro to modern and really make a difference in one of the rooms you probably use the most and spend a lot of your time in.
However, a remodel of your kitchen goes far beyond just the kitchen cabinets and counters. Water saving faucets, energy efficient appliances, even a smart refrigerator and stove that you can control from anywhere will add elegance and function to your kitchen while saving you money at the same time.
Go to the Bathroom
Once you have finished in the kitchen, you are eventually going to have to head to the bathroom. That look from the last decade may be more than just an eyesore, it also may be a money pit.
Replace the shower and faucets with water-saving models with a modern touch, and toilets with models that are attractive, comfortable, and use a lot less water than their less modern counterparts.
This is another place where lighting and ventilation issues can make a big difference in the amount of energy you use and the water you can conserve.
Open Your Doors
Don't just open the doors, take a look at them, both interior and exterior. From how attractive they are to the security they offer for you and your family, the exterior doors to your home can make a huge difference in the way things look.
Interior doors can also make a hallway look new and unique, and add a unique touch to each room.
Doors also make a difference in the energy you use. A well-sealed door made of the proper materials can save you a huge amount of energy. Even interior doors can make it possible to isolate certain rooms when you are not using them, and even allows you to place thermostats throughout your home, regulating these room temperatures.
Home improvements can be costly, but they can also be extremely worthwhile when they increase the value of your home and save you energy and money in the meantime.