If you are trying to learn how to save for a vacation, you are in luck! Check out our money-saving tips by clicking right here.
Going on a vacation has many benefits, such as experiencing new cultures, having once-in-a-lifetime adventures, gaining confidence, and improving social and communication skills. Taking a vacation can also be expensive, considering Americans collectively spend more than $1 trillion a year on international and domestic travel.
If you are wondering how to save for a vacation so you can go on your adventure, here are 9 tips to get you started.
Create a Savings Goal
Where are you going on your vacation? Are you visiting Singapore for a NERF Action Xperience or going to Africa to go on safari? Where you go will determine how much you need to save.
By creating a savings goal, you can decide how much you need to save each week or month to be able to afford your vacation.
1. Work a Side Hustle
Make extra money by working a side hustle. You can drive for Uber, deliver for Postmates, or tutor kids online.
2. Have a Pantry Week
Save money for a vacation by designating a week of every month as a pantry week. During pantry week, you eat from your pantry instead of eating out or shopping at the grocery store.
3. Cut Your Vacation Expenses
There are many ways to have a great vacation on a limited budget. You can negotiate room rates, buy cheap flights and look for last-minute deals.
4. Start a Spare Change Jar
Saving for a vacation can be as simple as tossing your spare change in an empty jar. If you've ever tried this trick, you know change adds up quickly to a significant amount that will put a dent in your vacation expenses.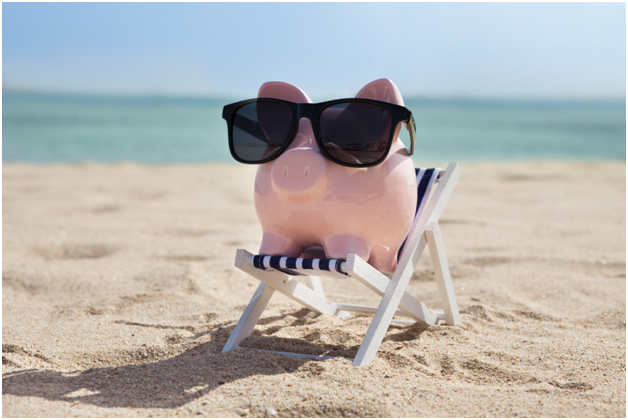 5. Follow the Envelope Budget
The envelope budget requires you to use physical envelopes for your budgeting categories. Once the money is gone from one category, you cannot pull from another. Try this or another budgeting method to save for your vacation.
6. Save Money on Groceries
A great tip for how to save money for a vacation is to grocery shop with flyers, coupons, rewards cards, and other deals. You'll not only be saving money, you can even stock up on groceries for pantry week.
7. Take the No-Spend Challenge
A no-spend challenge involves committing to not spending any money, other than for essentials, for a certain amount of time. The occasional no spends week or month will help you save money fast.
8. Cancel Unused Subscriptions
That gym membership you never use or all of those extra streaming subscriptions you barely watch can be canceled or paused and the subscription fees put into your vacation fund. As a bonus, you'll see how much you are spending each month on unused subscriptions.
9. Sell Your Stuff
A classic but effective way to save money for a vacation is to sell your stuff. You can have a traditional garage sale or make use of the many sites online that are perfect for selling second-hand items.
How to Save For a Vacation: The Bottom Line
By implementing these tips on how to save for a vacation, you'll have enough saved for your dream vacation in no time.
Don't forget to bookmark our site and never miss a post.