Every home and bathroom needs viable storage solutions to keep bath and cleaning products organized. The ideal bathroom shelf meets your storage needs, takes up just enough space, and adds to the visual appeal of your bathroom.
Functionality is the key feature to be considered when choosing a bathroom shelf. It is also essential to pick a shelf that is durable and sturdy from a reliable supplier. Check out the range at Allure for stylish and sustainable storage solutions for all your bathroom storage needs.
Types of Bathroom Shelves
If you are considering buying a shelf that suits your bathroom, you must first look at the different shelves available in the market. A variety of options are available to you depending on whether your bathroom's interior follows a contemporary style or traditional style.
Glass shelves are modern-looking but fragile. They are mounted on the bathroom wall. If glass shelves are likely to come in contact with water, a chrome-plated steel or aluminum bracket should be used.
Wooden shelves look great in a contemporary bathroom. They are drilled into the wall and add a certain aesthetic value. Wooden frames are more prone to mold and damage; thus, they must be protected with varnish or wax. You can choose between a solid wood shelf and a composite wood shelf.
While plastic shelves are not the most attractive option, they are certainly the most affordable ones. They are usually mounted on the wall with the help of suction pads and are sustainable and easy to maintain.
Unlike wall mounting shelves, freestanding shelves can be placed on the floor. They come as a unit of three or more frames, each mounted on top of the other. They are perfect for storing cleaning products.
These units are composed of three or more shelves. They vary in size depending on the size of the unit. This type of rack will have to be assembled and installed using screws and plugs. They are an excellent option for you if you use a lot of bath products.
Corner shelves enable you to make the best use of space. Since they are mounted on a corner, they require no additional space. You can pick a unit with a single shelf or one with multiple frames. They could be freestanding or mounted.
Three or four shelves are attached to one main rod. They are usually freestanding and don't require screws, and are easy to install.
Cabinets with or without draws are a great storage solution. They are great for storing towels and makeup. They can also be used to hold bath products. Wooden cabinets require special protection from moisture and are susceptible to mold.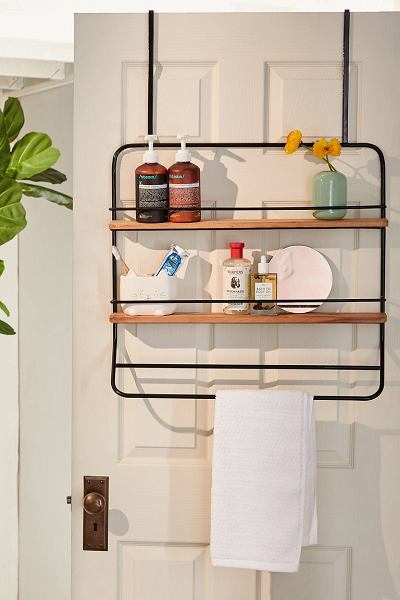 Which Shelf Type Should You Choose?
Choose a shelf that works for your storage needs. While choosing one, consider the size and style of your bathroom. Contemporary glass and wood shelves look best in a sleek, modern bathroom.
If your bathroom is traditional, a regular wood shelf or cabinet will look good. Irrespective of the design, one must choose durable and practicable shelves. The range at Allure is noted for its variety and goodwill.