Ferrari as a company doesn't need any introduction. Known its iconic motorsports history, Ferrari produces the best road-going sports cars, today. What needs an introduction here, is Maralleno's recent offering, the Portofino. Named after a village in Italian Riviera, the Portofino is a grand touring sports car and is the entry-level Ferrari model. By entry level, it doesn't mean that this is less of Ferrari or something. The Portofino gets all the ingredients and mixes that are required for a perfect Ferrari. This car was first unveiled in September 2017 and was introduced as a replacement to the company's previous entry-level car, the California T. So how good is the Portofino? How much better is it than its predecessor? How does it fare against the competition? Let's find out.
The Portofino is a 2 door, hard-top convertible grand tourer. It has got a menacing front grill on which the prancing horse logo is fixed. You've got a long and low slung bonnet which houses the power unit of the car. The car overall has an aerodynamic shape and looks really handsome. This is also one of the cleanest designs we have ever seen on any Ferrari. This is a no-frills car and it just feels so complete without any flashy elements. It just looks modern and stylish but does so without being too flashy like other sports cars.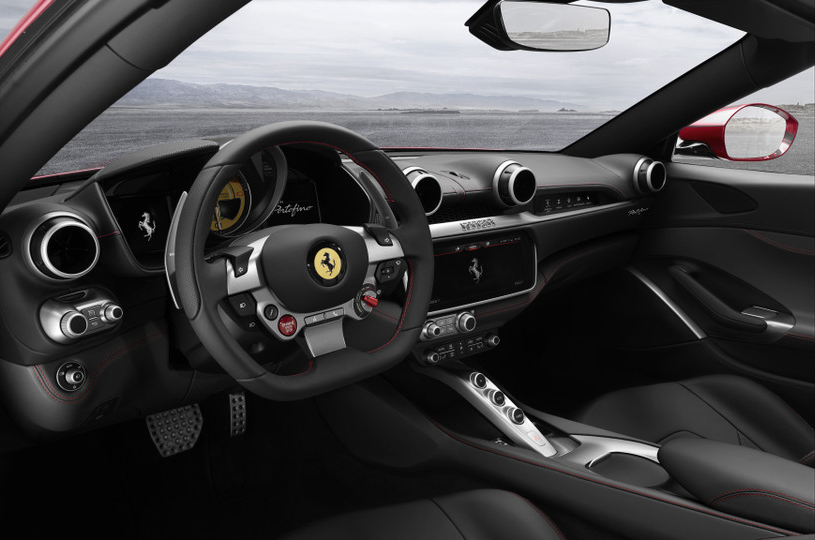 The Portofino is front-mid engine car and you get to look at a 3.9-liter, V8, turbocharged engine when you open the bonnet. The engine makes a solid 600 horses and delivers 760 Nm of torque. Potential is sent to the rear wheels only through a 7-speed dual clutch gearbox. You also get an electronically limited slip differential for enhanced performance. The car tops out at 199 mph and does a 0-60 mph in about 3.5 seconds and hits the 125 mph mark in about 10.8 seconds. Ferrari has equipped with a rather strong set of brakes and the Portofino comes to a complete halt from 60 MPH at a distance of 34 meters.
The driving experience is exhilarating. The grunt of the engine is pure joy to the ears. The throttle is very responsive and you feel very lively. Gear shits too are slick and shift very smoothly and help you get the very best out of the engine. The power delivery is linear but by no means is gentle and the car does handle really well. Ferrari says that they have redesigned the pistons and the connecting rods and have also some new additions to the engine management systems which has helped them to achieve these levels of performance in the Portofino. The flat bottom steering wheel also feels very responsive and is light to hold and it almost feels like you are holding a steering wheel from a Formula 1 car.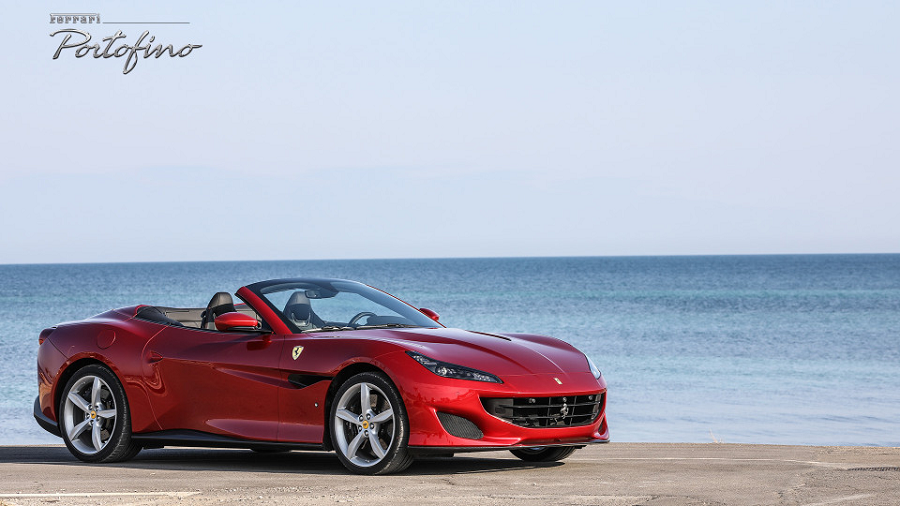 Talking about the Interiors of Portofino, there are 4 seats on the inside. However, no reasonably sized adult can fit in the rear seats and only children below the age of 10 can possibly make into them. This technically makes the Portofino a two-seater car only. The quality of the materials used inside is top-notch. Everything feels so premium and so exotic like it almost feels like you're sitting in a luxury car. Customization and personalization is the core idea of Ferrari and so you can have the interior materials customized the way you want. You can choose from the variety of leather options and colors that Ferrari has on offer or you can ask Ferrari to build your Portofino in any color you want even if it isn't there on their list. On the infotainment list, you only get Apple Carplay and 7-inch touchscreen display and also a powerful audio system. Cargo space isn't all that really great although you open up to a bit more space when the roof is open that still isn't too much. Ultimately, this is a Ferrari and you can't really expect it to be utilitarian and if you really want a utilitarian car, you might just go for a Bentley or a Maybach or Rolls Royce.
The Portofino, as stated earlier, is an entry-level Ferrari model with about 600 horses under its hood and 2018 Ferrari Portofino sticker price of about $200000. The Portofino, in simple words, is fast. It's got all the characteristics that you would expect from a Ferrari. It is quick, it is loud, it is an eyeball grabber, it is luxurious. A great package on the paper as well as on the road. The Portofino combines daily driving with race track like driving experience.