Who's to say that you can't transform your playground into something exciting and challenge for children of all ages?
Believe it or not, investing in new school playground equipment is just one way that you can inspire children to learn; so make sure you get your school playground ready in time for summer! An ideal place to start is to create an outdoor learning space, this will make your playground more intriguing for children but will also impress OFSTED when they visit your school for inspection!
If you're looking to update your playground in time for the summer, look no further than the school playground equipment we provide here at Setter Play! We've handpicked some of our school playground favorites here:
Hectors House.
For the adventurous.
You cannot go wrong with Hectors House! This multi-play unit allows children to explore and is designed to be challenging. We recommend this play unit for nursery children and infants, allowing them to put their skills to the test.
With vertical ladders, clamber ramps, climbing ropes, and steel slides, children are bound to love Hectors House- a fun yet physical addition to making to any school playground!
Galleon.
For the outgoing.
The Galleon is perfect for children who are imaginative. We supply the Galleon ship to create a theme for your playground encouraging primary school children to use their initiative and to be creative.
Our school playground equipment is guaranteed to make a statement, so if you're looking to provide equipment that suits all abilities (even those with limited mobility) the Galleon is perfect and allows children to enhance their social skills!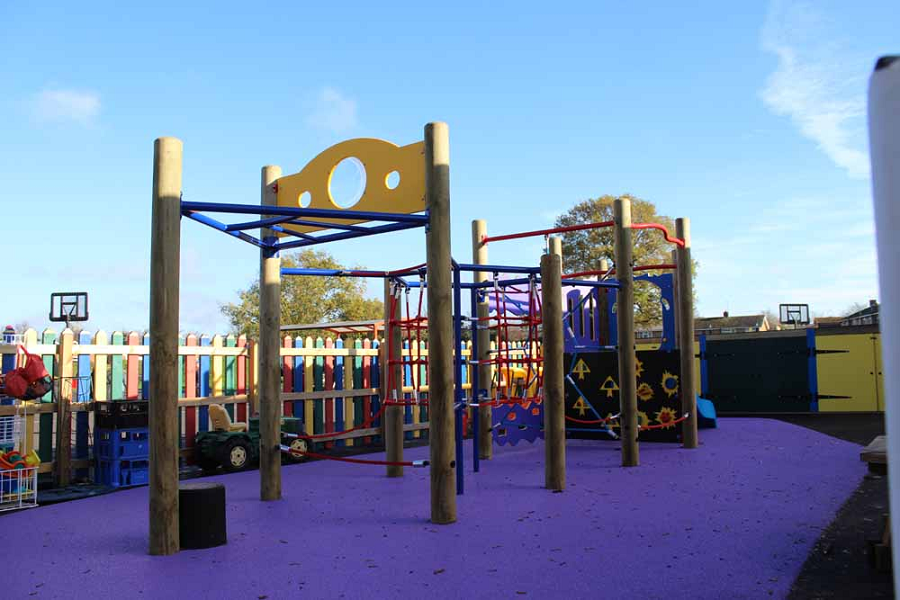 Treehouses.
For the active.
Our treehouses are designed to combine physical play with imagination- they're ideal if you're trying to encourage children to get involved! The simple addition of a treehouse will encourage exploration in young children.
Like any of the school playground equipment we supply, our treehouses are eye-catching and appealing to children of all ages, not only allowing them to socialize and play with their peers but to test their physical capabilities at the same time!
Teaching canopies.
For the distracted.
Sitting in a classroom in the summer is uncomfortable, to say the least. Why not take the classroom outside?
Our teaching canopies are ideal if you're looking to enhance the way children learn. Mixing up the way lessons are delivered can make learning more enjoyable for children, keeping them interested and engaged.
Any of the canopies we supply are adapted to suit the space you have available, ensuring that lessons can be carried out effectively, with minimal disruptions.
Gazebos.
For everyone.
If you're looking to enhance the social skills of your students, what better way to do so than to invest in our school playground equipment? Take our gazebos and pergolas, for instance.
The gazebos we supply are exactly what you need to provide shelter throughout the summer months. They don't only allow children to sit in the shade, they allow them to socialize or relax. Gazebos are not only ideal for the summer months, they can shelter parents and staff from heavy downpours throughout the winter too, offering a multi-functional purpose!
If you need to know more about how to get your school playground ready for the summer, call us on 01462 817 538 today!